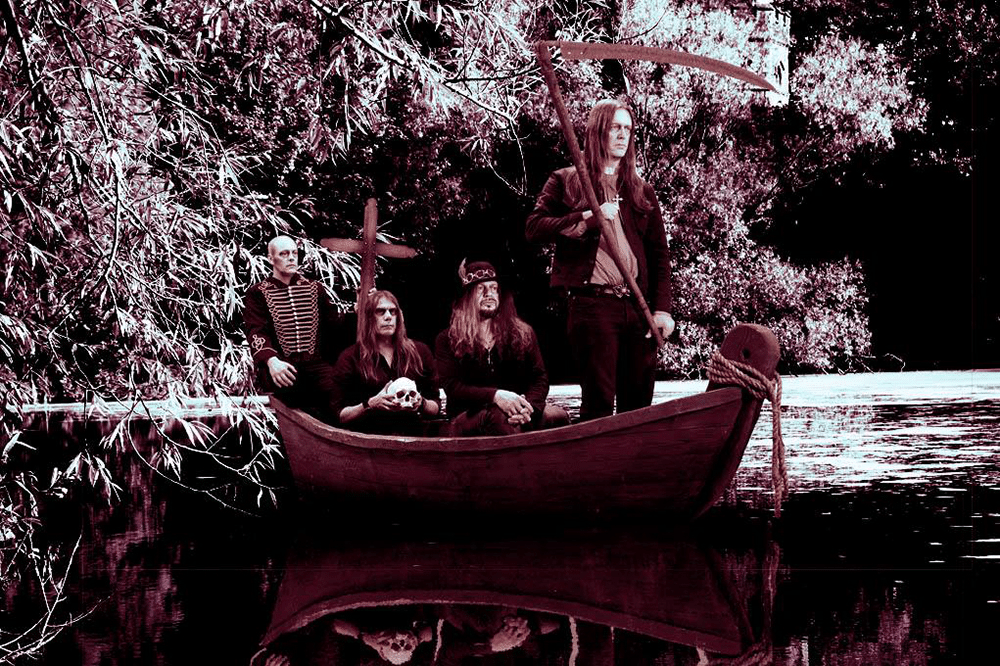 In memoriam: Cathedral 1990 — 2013
"The funeral of Cathedral has been a long but gratifying process. Deciding to end the band wasn't an easy decision to make but we knew deep down in our hearts that it was the right thing to do."
And lo, Lee Dorrian, mouthpiece of Cathedral for 23 years, doth solemnly intone the death rites of this mighty British metal Titan. Born in the dying days of Thatcher's Britain, bonding over then-unfashionable, obscure names like Saint Vitus, Pentagram, Trouble and Dream Death, Cathedral's sole ambition was to record a demo tape. In fact they revolutionised doom metal, first pushing their influences into new avenues of grinding extremity, then pioneering groovier forms of '70s-indebted stoner doom. 

They've remained a reassuring and singular presence in our lives, building a rabid following worldwide with their wholly distinctive blend of rollicking British heavy metal, true doom, 70s hard rock, psych-folk, mad prog and spiky crust-punk. There was a worrying hiatus between 2005 and 2010 when some dared to wonder if Cathedral were coming back at all – but they re-emerged with 'The Guessing Game', an overflowing treasure chest of weird and wonderful goodies exploring new, bold variations on their craft. So when news came that Cathedral really were approaching the Endtyme, it was a shock.
"Announcing that we were splitting way in advance of recording 'The Last Spire' gave us time to adjust to the fact that the end really was in sight. This took a lot of the pressure off off us, as it meant that we no longer had anything to prove and could make this album purely on our own terms, especially by releasing it through Rise Above."
Descending 'The Last Spire'
"Personally speaking, this is the album I've been waiting to do since the first one, it almost feels like we made our second album last in some respects. We actually recorded a lot more material but decided to sacrifice many of the tracks to make the overall album feel more complete in its nihilism. I don't like happy endings, I never have. So many good films are ruined by happy endings and I didn't want that to be the case with Cathedral, it was my dream to bring everything full circle."
Although exploring many twists and tempos, with Hammond, Mellotron and Moog deployed to stunning effect, 'The Last Spire' is grounded in a vast, blighted and shuddering doom metal landscape, studded with morosely magnificent career-best epics like 'Pallbearer', 'Infestation Of Grey Death' and 'An Observation'. 'Forest Of Equilibrium' remains a one-of-a-kind recording, but 'The Last Spire' brings the best tricks Cathedral have learnt since to bear on a similarly monumental and obsessive total doom framework, the sound gritty and heavy as hell, musical chemistry at full pelt, each song gradually built and honed into optimum shape.
"Nothing was forced, we just let it happen. We had the luxury of being able to record at certain stages over a period of time, which was great, as we had chance to let the songs sit with us and watch them grow, whilst still allowing for elements of spontaneity. The process was as strange as it was enjoyable, it felt like we were writing out the band's will."
And what a bonded unit the band sound as a result. Gaz's final sally for Cathedral is a copious, triumphant dark labyrinth of monstrous riffs, ripping leads and beguiling melodies, Repulsion's Scott Carlson drops jaws with his vicious, attacking bass-work, and we're going to miss the thunderous wallopings of Brian Dixon more than we know. Meanwhile Lee's voice sounds more impassioned and commanding than ever, his Baudelaire-in-a-Midlands-squat lyrics attaining new heights of solemn, acid majesty. Clearly there was new impetus for reconnecting with that early spirit of doleful abjection, of sinister obsessions and lamented desires; on 'The Last Spire' Cathedral are literally doomed. We are commiserating the celebration, and in what thrilling style.
"When the last mix was finally done, there was a massive sense of relief. I think this was partly due to the fact that it meant Cathedral could finally be put to rest but also because we felt we'd done something that we were all very pleased with. I feel comfortable leaving 'The Last Spire' as our legacy."
Chris Chantler 2013