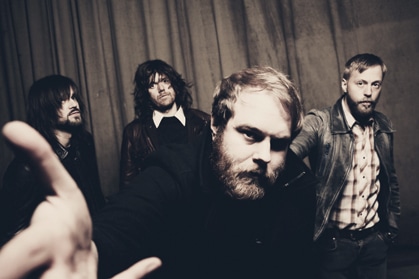 Troubled Horse is a hotly-tipped heavy garage rock band from Orebro, Sweden. A town that bought us a second wave of vitally cool hard rock bands such as Witchcraft and Graveyard. Ironically Troubled Horse features three members of the original Witchraft line-up, one of which (bassist Ola Henriksson) is still a current member. Lead guitarist John Hoyles parted ways from Witchcraft a few years ago to concentrate on his other band, Spiders and these frantic rockers of course.
Despite the collective members association with the aforementioned band and origins, Troubled Horse is most definitely an institution in its own right. The raw and melodic song writing skills of singer/guitarist Martin Heppich combines the hard edged spirit of 70's US bands such as Dust and Pentagram, with an altogether more soulful 60's MC5 vibe, making them very unique and fresh. Just what the rock and metal scene needs right now!
The band has built a cult following over the past few years and Step Insideis hugely anticipated by fans. Crammed full of instantly memorable hard rocking, footstomping anthems such as Shirleen, One Step Closer to the Grave and Fear, Troubled Horse are ready for action and ready to be heard!