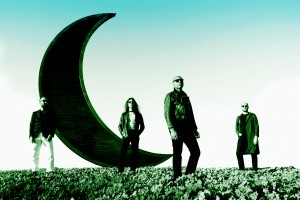 GIUDA Bio 2019
Outer space has always seemed like a pleasing alternative to the relentless shitstorm of planet Earth. As a result, rock 'n' roll has regularly ventured into the stratosphere, often with mind-bending results. In 2019, only one band can guarantee you a safe and sensational intergalactic trip, with songs that will make your head vibrate like Woody Allen's Orgasmatron. Meet Giuda: Italy's premier exponents of insanely infectious, glam-tinged and gritty rock 'n' roll. Formed in 2007, these lysergic power-pop warriors have a decade of active service under their utility belts and a brand new album, E.V.A. (Extravehicular Activity), which seals the band's hard-earned triumph in the face of tragedy.
"Before Giuda, our singer Tenda and I had a band called Taxi, which was strongly influenced by the '77 Punk scene," explains guitarist Lorenzo. "In a tragic accident In 2007 we lost our drummer Francesco. The loss felt so significant, we decided to call it a day as Taxi. Towards the end of the year, we found our energies were starting to renew. We wanted to play again. At the time we had just discovered something that was completely new to our ears. The relatively unknown sound of 'junkshop glam' had entered our world. These new sounds had the same impact on me that punk music had, many years before.  A strong influence from this music crept into our songwriting and our approach to the recording process. Consequently, a new project was born, the fruits of which became Giuda's first album, Racey Roller. The album was an unexpected minor success, and because of that, from that day on, music has become our full-time job."
Every last track on E.V.A. will lodge itself in your skull like some kind of miniaturised robot invader. Giuda are a band with proud and persistent roots in the glory days of garage rock and proto-metal, when bands wrote fistfuls of anthems before breakfast.
From fiery opener Overdrive and the throbbing spacebound strut of Interplanetary Craft through to You've Got The Power's hazy AC/DC-isms and the scorched earth funky new wave of Cosmic Love and Ravers Rock, Giuda's fourth full-length album is an outright celebration of balls-out, hook-drenched and wilfully eccentric abandon. Welcome shades of everything from Cheap Trick and Big Star through to Devo and the Ramones collide with some irresistible psychedelic embellishments and subtle bursts of sonic strangeness. Simultaneously old school and as fresh and modern as can be, E.V.A. is simply the greatest rock'n'roll record you haven't heard yet.
"Giuda is a modern band with its roots firmly planted in two musically revolutionary decades, the '60s and the '70s," says Lorenzo. "We're not an analogue nerds, not anymore at least! During our years in recording studios, we've gained considerable experience and now we understand how important it is to get the best you can from everything you have at your disposal. The end justifies the means! We can't afford to record an album at Abbey Road, so we have to make the most of is available to us. New technologies and recording techniques, used in the right way, can really help. I think
our new LP perfectly reflects the essence of this band. It hopefully sounds fresh and new even though we did employ some good old fashioned techniques like 'vinyl cutting', done straight from tape!"
With new reasons to flee the planet oozing from our screens every day, Giuda's joyful hymns to interplanetary escape provide the perfect antidote. These are no red-eyed space cadets: instead, this is rock 'n' roll with a real sense of purpose and a clear and singular vision. Read between the lines, and it's not hard to work out how Lorenzo and his bandmates feel about the state of the world.
"The title E.V.A. stands for 'extra-vehicular activity' in relation to astronauts in space and the album artwork hopefully reflects the song topics and the lyrical content," the guitarist notes. "When it comes to the theme of outer space and journeying into other dimensions, it's not just an aesthetic thing with us. It's also about what's happening currently both in Italy and around the world.  Everyone seems to be in fear of being invaded by other cultures."
Newly signed to Rise Above, Giuda are yet another idiosyncratic addition to the label's bewildering roster. As Lorenzo recounts, his band were simply destined to end up collaborating with doom maven Lee Dorrian's revered imprint.
"A few years ago, after one of our early shows in London, I found a record and a message from Lee in our dressing room," he says. "The message read, 'Here's the record I promised you!' I didn't have a clue what he was talking about, so I went through my old emails and texts from Lee and I found one saying that he would have loved to put out one of our records. So, after many years we finally got in touch with him and we are now working together! Lee is a true Giuda fan from the very early days, and we need to work with people like him."
When space travel finally becomes available to the likes of us, you can bet that Giuda will be making plans to ditch this dump and find some aliens with a taste for rock 'n' roll. But until then, these resolute guardians of the cosmic riff are one glorious reason to stick around on poor old planet Earth and see what happens next.
"What's next for Giuda?" says Lorenzo. "We conquer space!"
Dom Lawson, January 2019