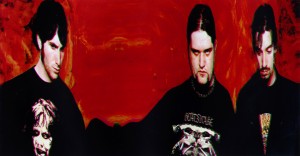 Electric Wizard
ELECTRIC WIZARD ARE DEAD – LONG LIVE ELECTRIC WIZARD
Electric Wizard are:
Jus Oborn – Guitars / Vox
Tim Bagshaw – Lead Bass
Mark Greening – Drums & Concussion
THE WIZARD RETURN…
After four years of self imposed exile from the scene (drug abuse, arson, robbery and near death experiences), the most intense stoner sludge band in the world have returned with their heaviest most acid drenched, yet accessible, and diverse material to date. Yes, the sons of nothing return to reclaim the Dopethrone!
The Wizard are prophets of a new era, preaching salvation and oblivion through mind melting riffs, savage drumming and psychedelic B-Movie imagery.  It's raw and barbaric, with little or no consideration for modern production values.
Electric Wizard push their urge to destroy complacency and jolly vibes through battered old vintage amps and decaying pedals, they don't need or desire the high-tech gloss that they feel has diluted heavy music over the past 10 years. The bands strength is in their conviction – weak shit move aside!
From their isolated Dorset surroundings Electric Wizard are one of the most influential bands of the British Stoner scene, inspiring both Iron Monkey and Orange Goblin alike with their early incendiary performances and anti-trend approach. Mixing raw cement mixer style guitar tones with a fluid 60's three piece rhythm section has created a unique and much emulated sound throughout the global underground acid sludge scene.
With new album 'Dopethrone', Electric Wizard draw you further into their bizarre and paranoid world of 70's exploitation movies, immense marijuana abuse, combined with the shitty reality of unemployment and crime. Indeed, from the seemingly uninspiring and isolated home town vistas, the frustration and anger of detachment is magnified and echoed so perversely loud into the void of life outside. The Wizard drone reflects the blind drudgery of a day to day futile existence, where nothing is questioned, only accepted.
It wasn't until a small UK tour in May '99, that Electric Wizard was reborn after several years of bewilderment and inactivity. The crowd was ecstatic and electrified to see the original British 'Stoner Rock' band give everyone a lesson in serious bonged out doom rock. No frilly 70's rock cop-out here, but the real fucking deal – dark, oppressive, hallucinatory and 1000% heavy!
At the close of their headlining set in Birmingham, a massive thunderstorm coincided with the final crushing chords, which some felt was an omen or a blessing – who can say? But Electric Wizard was reborn as the most influential, incendiary and insanely fucking heavy doom band in the Universe.